The importance of cybersecurity in modern business cannot be overstated. Every day, more and more digital threats loom – regardless of if you're a small business, non-profit, or professional service firm.
As the digital landscape continues to evolve, so do its threats to organizations. What was considered dangerous yesterday might completely transform into a new form of threat tomorrow.

And that's not meant to be dramatic. That's just the reality.

In fact, the underworld of the cybercrime world is so prevalent these days that there's a lucrative market for creating the best fiction about the subject. Just read this extensive report in Wired aboutcybercrime writing contests.
As an organization leader, what's important to keep in mind is that the consequences of these risks go beyond frustrating outages or other hiccups with technology. Outages cost time and money – valuable resources that when wasted, can hinder growth, profit margins, and general business health. In 2023, the global average cost of a data breach was $4.45 million – a 15% increase over three years.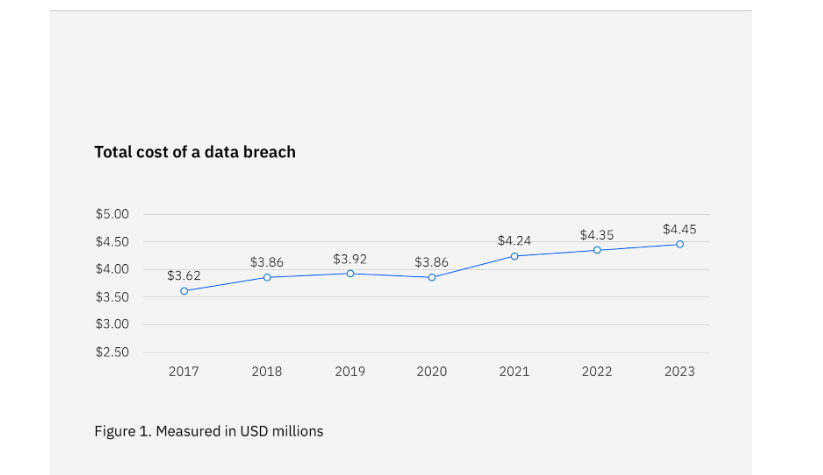 via IBM Report
But intelligent leaders recognize that – and work to prevent it. In fact,according to a Gartner survey, 88% of board members considered cybersecurity a business risk – versus just 12% labeling it as a technology risk. This suggests an overall growth and keen understanding of how technology continues to shape the modern workplace.
While this growing IT security risk is recognized, many do not have the technical expertise to tackle it head on. That's why many leaders create a shortlist of cybersecurity companies in Pittsburgh that can act as their IT strategist. But how can leaders get to the bottom of a managed cybersecurity provider's services, and whether they can meet your unique needs?
To answer this, we created these five key questions you can ask all of the local cybersecurity companies in Pittsburgh – so that you get the IT support you need.
1. What is the Scope of Your Cybersecurity Services?
When looking for a cybersecurity company in Pittsburgh, it's vital to not only understand the full scope of services they provide, but how they can tailor those to your specific needs.
Similar to other digital protections, a cybersecurity defense doesn't come from a one-size-fits-all approach. That strategy is bound to be beaten by evolving digital threats.
For small businesses, non-profits, or professional service firms in particular, you need a Managed Service Provider (MSP) that can adapt quickly to your needs – growing with you as your organization evolves.
Tailoring to Your Needs: Begin by asking for a detailed explanation of the cybersecurity services offered. A reputable provider will be eager to walk you through their offerings, explaining how each service can be customized.
The Power of Flexibility: The ability to scale services up or down based on your needs is vital. Some days, you might need more support; others, it might be a completely different situation. Your MSP should be able to navigate the task at hand, and react accordingly.
As an example, Ceeva'scybersecurity services offer awareness training, phishing testing, multi-factor authentication, endpoint protection, backup and disaster recovery solutions, compliance governance and assistance, and more.
Learn why leaders trust our Ceeva Shield protection plan!
"Hackers are getting smarter and more creative about how they get into networks and inflict damage. The old ways of protecting data and infrastructure – antivirus, annual cybersecurity training for employees, reactive fixes – aren't cutting it for a lot of organizations now. And those organizations that continue with this approach will see increasing risk going forward."
- Rick Topping, Ceeva Vice President
2. How Do You Stay Up-to-Date with the Latest Cyber Threats?
Cyber threats can take many forms – from cunning malware to sneaky ransomware.
It's crucial that your chosen MSP is ready to shield your organization from these digital attacks. Are your shortlisted cybersecurity companies in Pittsburgh staying up-to-date with trends?
Better yet, are they not just playing catchup, but rather setting the tone for the future?
Continuous Vigilance: In your list of cybersecurity companies, ask each one how they keep pace with the latest cyber threats. An MSP with commitment to your organization's security will have a proactive strategy in place. They should be monitoring emerging threats, analyzing new technology, and adapting their services.
Threat Intelligence: What are the sources of threat intelligence? Reputable MSPs usually have access to a vast network of information and collaborate with other organizations to stay well-informed.
Adaptive Defense: Can your IT managed service provider respond to new threats swiftly? The ability to quickly pinpoint and fortify defenses against cyber dangers is vital for keeping data secure.
Watch How Ceeva Stays Ahead of Cybersecurity Trends
In order to call ourselves one of the leading cybersecurity companies in Pittsburgh, Ceeva has continuously demonstrated that when you choose us as a cybersecurity partner, your organization's data security is in good hands.
Interested in how Ceeva brought together keynote Pittsburgh speakers to discuss the latest in cybersecurity? Watch our recentcybersecurity event, "Don't Gamble on Your Cybersecurity: Reduce Risk and Manage Your Insurance Premiums."
Want more materials to read on the go? Discover the truth about cybersecurity myths and a checklist for your team in our free handbook!
3. What Is Your Incident Response Plan?
Always be prepared, that's our motto. Of course, the best cybersecurity companies in Pittsburgh strive for prevention throughcybersecurity strategies, but it's equally important to be ready for unforeseen events.
When those events happen, your MSP should have a well-crafted incident response plan in place, ready to act swiftly and decisively. Primarily, the following three questions should be asked of your MSP:
How will they communicate with you during an incident?
What steps will be taken to fix the issue?
How will they prevent future incidents?
4. Can You Provide References or Case Studies from Similar Organizations?
Results speak louder than words. An IT MSP's past performance can give you important insights into their capabilities. When reviewing cybersecurity companies in Pittsburgh, it's essential to look back before moving forward.
To gain valuable insights, consider asking for references orcase studies from organizations in your industry. How did they impact previous clients? For example, look for standard offerings from the cybersecurity company.
Assess Past Performance: To analyze the quality of cybersecurity companies in Pittsburgh, it's best to take a hard look at their clients. Do they have satisfied clients? And specifically, can they provide references?
Examine Industry Standards: Look at similar organizations to yours and the types of cybersecurity obstacles they face. Ask questions focused on these topics of your cybersecurity company – ensuring they provide a clear understanding of how they'll handle common industry challenges you face.
5. What Type of Employee Training Do You Offer for Cybersecurity Awareness?
Did you know that41% of cybersecurity attacks are through phishing? Yes, nearly half of successful cybersecurity attacks are the result of tricking people into clicking on links they shouldn't click on. Seems like a simple thing to stop, right? Perhaps, but only if you and your team are properly prepared.
Employees are the frontlines when it comes tocybersecurity awareness. In many ways, they're the frontline defenders of your organization's digital assets – resisting the said phishing attempts,digital scamming, etc.
That's why – regardless of the size of your organization – it's vital for your IT MSP to educate your staff about best practices. Cybersecurity companies in Pittsburgh that provide routine employee awareness training increase overall security.
Secure Your Future with Ceeva, One of the Most Trusted Cybersecurity Companies in Pittsburgh
We live in a modern world where every byte of data matters and every click holds potential risks. That means choosing the right cybersecurity partner is a vital step for any organization.
But don't wait until the next cyber threat knocks on your door. It's crucial to take action now to safeguard your organization's data and reputation, preventing any potential damage before it happens.
At Ceeva, we take a tailored approach to managing cybersecurity services. Our strategy ensures proactive threat mitigation and a commitment to keeping your organization ahead of threat trends.
Your digital-forward future starts here. Learn more about ourmanaged cybersecurity services today!
Subscribe blog for latest updates
By submitting this you will be receiving our latest updates on post.