There's nothing more frustrating than when your email is down, or when your employees can't find digital files, or when you feel like you can't keep up with new tech. For many small businesses and nonprofit organizations, these issues can feel overwhelming.
And for the 33.2 million small businesses across the United States, these issues are becoming more and more common. As a seasoned Pittsburgh IT support provider, we have experienced first-hand how these issues impacted our Pittsburgh partners before we found them solutions.
But we want to help even more local organizations navigate these tech hurdles. Our goal is to help you get the affordable tools and modern processes you need to thrive in our digital-first world. In this article, you'll discover four concrete benefits of strategic IT consulting. By the end, you'll have clear steps to leverage tech to your advantage.
Let's get started with one IT consulting Pittsburgh benefit that you may not have thought of:
#1: Migrate Your Data to the Cloud to Become More Efficient
Businesses used to thrive with pen and paper, but now, those tools can be a hindrance to growth. This is because platforms like Microsoft 365 and their accompanying cloud services are changing how Pittsburgh organizations work.
The future of your team's IT will rely heavily on your ability to build a strong IT cloud infrastructure. Across the world, more and more organizations are investing in cloud technology because of the benefits that come with it.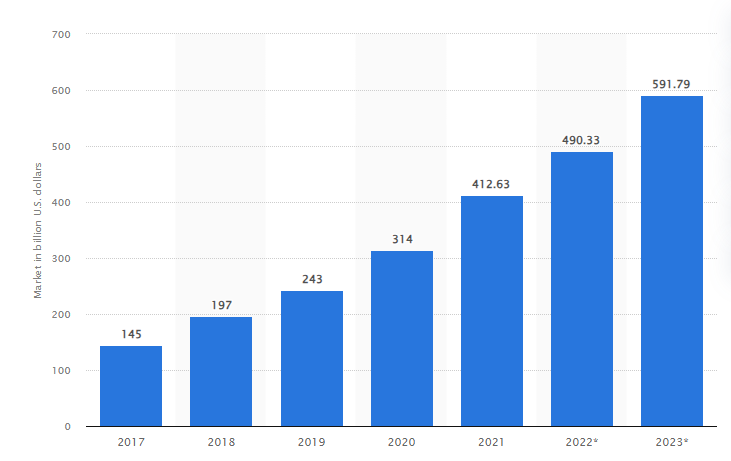 Cloud services end-user spending worldwide from 2017 to 2023 (In Billion Dollars)
Source: Statista
But not everyone has the skill set to start down this path. 52% of leaders are concerned that a lack of skills in cloud architecture will be an obstacle to getting value from the cloud.

That's where IT support Pittsburgh experts can help your business migrate from outdated servers and systems to new, efficient platforms. With all of your data at your fingertips, you'll be in a better position to serve your customers and improve their overall digital experience.
Interested in keeping your customers and employees happy? Download our webinar recording to learn how you can do so with technology!
But it's not just about getting up to speed – it's about staying ahead. With cloud platforms, your systems are always up to date. Gone are the days of manual software upgrades or worrying about outdated security measures. Plus, with the help of local IT consultants, your organization can harness the best and latest tools.
#2: Improve Your Employee Digital Experience
While cloud technology can help propel most organizations forward, if you don't have the training and processes in place to use this new technology, it won't be as impactful.
That's why a major benefit to IT support is that you can improve your employee's digital experience through training and ongoing support.
A tool is only as good as its user. Implementing the latest tools is just one piece of the puzzle; ensuring your team knows how to use them is the key to unlocking their potential. Training not only boosts confidence but also ensures that your employees can navigate new systems efficiently.
But don't just take our word for it. As a real example, Animal Friends partnered with a local IT firm and transformed their infrastructure with:
New network and hardware
A digital collaboration hub
Strategic IT consulting help
By establishing documented processes for new tools or even current ones, leaders pave the way for smoother day-to-day operations. With the right guidance, your Pittsburgh organization can have a positive, value-driven experience for your employees.
#3: Enhance Your Security Without Breaking the Bank
57% of business owners believe cybersecurity is increasingly important – and for good reason.
Given the increasing threats in the digital world, Pittsburgh IT consultants must stay up-to-date with the latest cybersecurity risks. It's not just about defending against known threats; it's about anticipating what's next and preparing in advance. This means that if you partner with a managed cybersecurity services team, your organization's data will remain secure, even as cyber challenges evolve.
But every organization is unique and has different cybersecurity solution needs. Whether you're a growing business or a well-established nonprofit, the digital vulnerabilities you face will differ.
An IT expert would evaluate these specific vulnerabilities and craft a security plan tailored to your infrastructure. And they won't leave you in the dark. They would also walk you through it each step of the way using easy to understand language, rather than overwhelming, technical IT jargon.
#4: Consult on Your Unique IT Challenges
Today's fast-paced digital world can throw many unexpected challenges your way. These might not always land within your team's technical expertise, and thus demand a specialized approach.
Enter custom IT consulting solutions. A strong partner doesn't just offer a quick fix, they collaborate with your team to find an answer that fits you.
Once the problem is identified, a tailor-made strategy is designed. This addresses your unique needs without over-complicating or overspending. This can look like integrating a new, custom-made security systems to building a new intranet for your employees.
The result? A solution that's as unique as the challenge it addresses, which fortifies your organization and paves the way for growth.
Learn How Our IT Consulting Pittsburgh Experts Can Help
From migrating to the cloud for heightened efficiency to empowering employees with the right digital tools, the right managed IT services can make all the difference.

For many small businesses and nonprofit organizations, these challenges might be familiar, yet the path forward remains up to you. However, one question remains:

How will your organization adapt and thrive in the coming years?

If you're interested in how Ceeva can help transform your digital employee experience and IT infrastructure, learn more about how we can help.
Subscribe blog for latest updates
By submitting this you will be receiving our latest updates on post.